Your Metro Publisher Website Start Page
Your Metro Publisher start page is the starting point for everything you'll need within your worksite. Think of this as your "dashboard" to access the tools and information you'll be using to build and manage your website.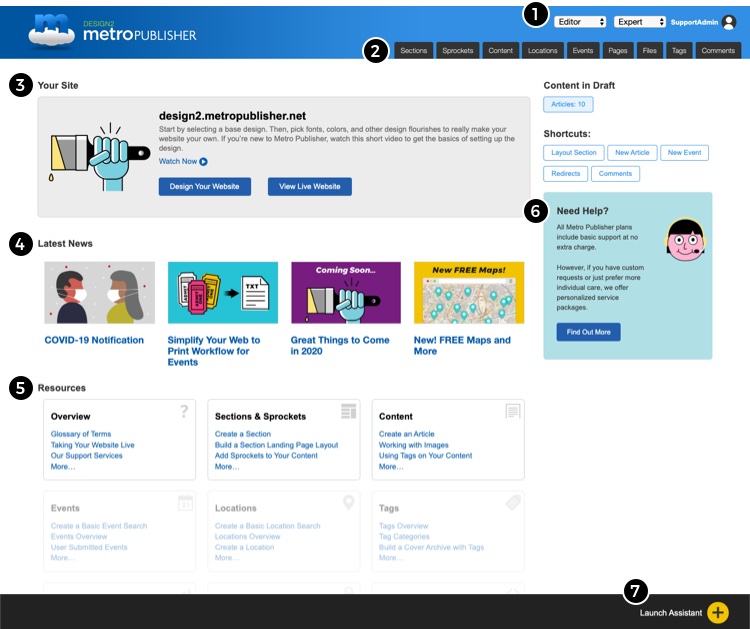 1. Account and User Settings
At the upper right, you'll see links to your account level settings.
User Role:
Admin, Editor, Designer, Writer – Displays writer roles for your user. These are defined by the site owner(s) for each user.
Setting Links:
Account Settings – Links to your user's account settings.
My Sites – Links to your user's top level landing page that displays the websites you have access to.
Manage Users – If your user is owner for this website, links to user management page.
Billing – If your user is owner for this website, links to invoices page.
Support – Links to Metro Publisher's support site.
Logout
2. Main Navigation
The main navigation of the worksite will take you to all the important features and sections that you'll need for building and managing your website.
3. Your Site
Here at the top of the page are shortcuts to manage your website.
Design Your Website – If you are an owner, admin, or designer you have access to the website's visual design. This button brings you directly to the Design Builder to manage the look and feel of your website. (See video above.)

Read more about the Design Builder





View Live Website – This button opens a new tab in your browser and brings you to the live website that your readers see. As opposed to many of the previews you use while editing your work site, this is your actual website in it's most up-to-date state!



NOTE: For performance reasons Metro Publisher uses HTTP caching . Once a new edit has been made to your site or a new item published, it may take up to 10 mins to see it live on the site.
5. Latest News
Here you'll find the latest news and announcements an a variety of topics from industry news, Metro Publisher features, and release notes.
6. Resources
Here are lists of important links and resources to help you make the most of Metro Publisher.
7. Need Help?
All Metro Publisher plans include basic support at no extra charge. However, if you have custom requests or just prefer more individual care, we offer personalized service packages.
Click the button to find out more about Metro Publisher's support services.
8. Launch Assistant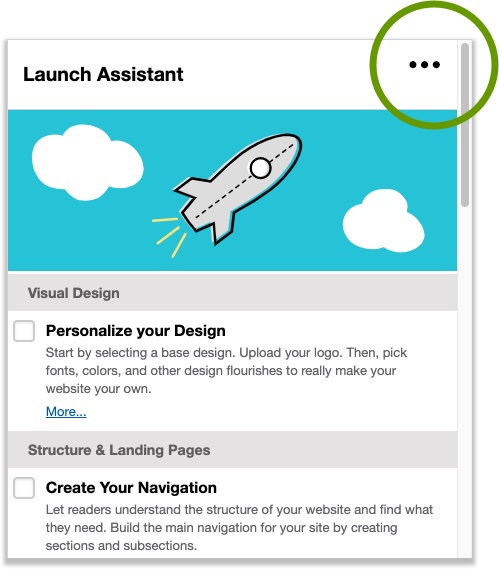 When you start a new Metro Publisher website, you probably will want to utilize our handy Launch Assistant. The assistant is a checklist of important tasks you'll want to complete in the process of launching your new website.
Expand the assistant by clicking the yellow button on the bottom right of the page. Collapse it again to stow it out of the way.
Check off each task on the checklist to mark your progress.
Once you've you've completed all the tasks, you're ready with a basic setup to launch your site. The last item at the bottom of the list is a link to the instructions for making your site live to the public.
Additional Items:
On the upper right corner of the Launch Assistant are three vertical dots. Click on those for additional items:
Contact us – Links to the page ob the support site to submit a new support ticket.
Support – Links to the support site.
Don't show this again – Closes the Launch Assistant permanently
Related Links