Overview
The Admin is responsible for adding and deleting new sections/subsections to the site. The day to day maintenance of those sections should be done by an Editor.
NOTE:
As of Metro Publisher's v4.0 release, blogs have been deprecated. Please use the content type article for blog posts and our diverse range of Sprockets to present your entries.
Editing a Section
When creating a new section or editing an existing one, be sure to fill out all of the fields and add all the relevant meta data. This is an important part of your site's search optimization. You may modify this information at any time.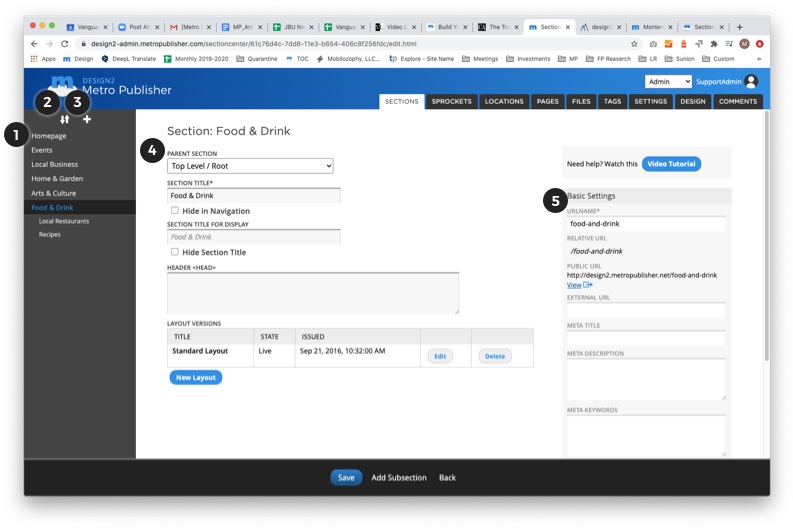 1. Section List
This list display all your current sections and subsections. Click on an item to edit a section.
2. Reorder Sections
Click on this icon to get to the page for reordering, merging, or deleting your sections.
3. Add Section
Click this icon to add a new section (Admin only)
4. General Settings
Parent Section
This is determines where this new section appears in your site's structure. Choose "Top Level/Root" to create a top level section. Choose any of the existing Sections, if you want to make a new "Subsection."
Section Title
This is the page title that will appear at the top of this section page and throughout the admin. By default, a link to this page will be inserted into the main navigation using this section title.
Hide in Navigation
If you click this option, the section will be active but will not appear as a link in the main navigation. You can use a hidden section to test things such as sprockets before putting them into a live section that is viewable by the public.
Header
Insert HTML/JS into section header. (Pro only)
Layouts
Create and edit new section layouts. Read more...
5. Basic Settings
URL Name
By default, the section URL will be the same as the section title but in all lower case with dashes separating the words. It is advisable to leave this auto-generated URLs as is, but they may be changed here if necessary.
Relative URL
If you want to link to this section from anywhere else within your website, use this path or "Relative URL" to do so.
External Section URL
Instead of linking to an auto-generated section page, you may link to any URL. Just paste in the complete URL here.

For example, if you would like a link to an event search page, just paste in the URL here. You do not need to paste the entire URL, just the Relative URL:

Example: /search/event/upcoming-events/

NOTE: The "relative URL" for a particular location or event search can be found on the respective edit page for that search.


Meta Title
This is the page title that will appear in the browser when users are viewing this section. This should be the same as the Section Title.
Meta Description
The meta description appears in the search results of popular search engines. This should be a clear and concise description of what this section contains
Meta Keywords
Meta keywords are descriptive keywords used by some search engines to help understand and rank your page relevance. They should be words that actually appear in the content of your site. For more information, read about meta elements here.
Show Previous/Next Links
By checking this option, links to the previous or next piece of content will appear with all your content entries. More information on content can be found here: Content Types Overview
---
Reordering Sections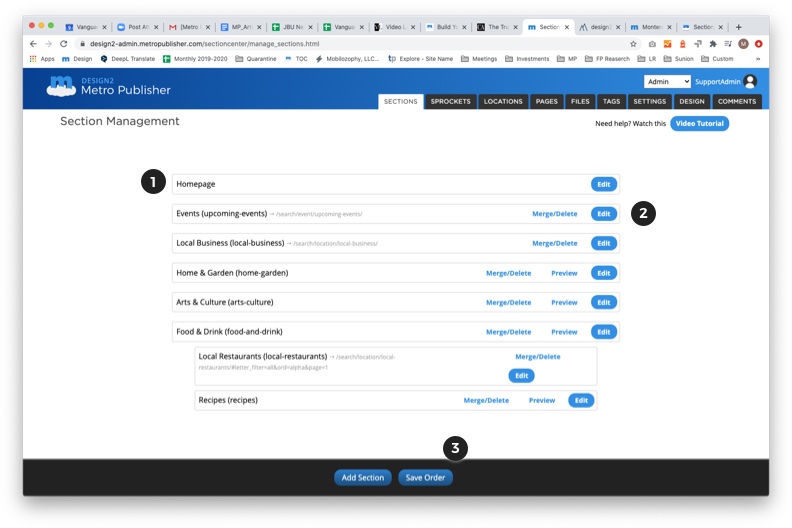 1. Section Order
The navigation is two levels – Sections and nested subsections.
The order in which the sections/subsections appear in the navigation is from top to bottom.
To reorder, simply drag and drop.
2. Section Tools
Merge/Delete – Merge this section with any other. To delete, merge with any other section, subsection, or root (top) level.
Preview – Opens preview of live page.
Edit – Edit section settings or landing page layouts.
3. Save Order



---
Renaming a Section
You may wish to rename a section to match shifts in your content development and presentation, or to distinguish two sections that are similar more clearly to avoid duplicate content appearance or confusion.
Perhaps you have come up with what you consider a more descriptive keyword to highlight your section, or a more user-friendly or modern term.
In some cases, you may have a section that reflects annual or monthly changes, e.g. archive sections for your back issues from the past year only, or a "Bestsellers May" section containing book reviews of best selling literature for the current month.
Renaming a section is easy in Metro Publisher. All you have to do do is type in the new name! This creates a so-called "301 permanently moved" redirect, which lets search engines know your page has moved to a new URL and also ensures that bookmarks users may have saved do not lead to a 404 page.
It would be best practice to also change the section URL to reflect the section name change.
To edit the section log in as Admin and navigate to the section (or subsection) you wish to rename. Change the "Title" and "URL Name" to the new wording you'd like and click "Save".
For example, you would change the title from "Bestsellers April" to "Bestsellers May" and also change the URL name from "bestsellers-april" to "bestsellers-may".
301 Redirects and SEO
301 redirects generally maintain the SEO ranking for the previous URL. However, Google doesn't commit 100% to understanding the 301.
Google states (combined from several blog and help pages):
A server side redirect has the highest chance of being interpreted correctly by Google. Googlebot follows the 301 redirect, and the indexing pipeline uses the redirect as a strong signal that the redirect target should be canonical. 301s are just one signal for canonicalization, not the only signal.

When you redirect a URL, Google keeps track of both the redirect source (the old URL) and the redirect target (the new URL). One of the URLs will be the canonical; which one, depends on signals such as whether the redirect was temporary or permanent. The other URL becomes an alternate name of the canonical URL. Alternate names may appear in search results when a user's query hints that they might trust the old URL more.

Alternate names are different versions of a canonical URL that users might recognize and trust more.
Bing states:
The 301 redirect defines a redirect which tells the search engine the content has moved permanently to a new location. This is preferred as it clearly states the intent to move and instructs the engine to transfer any value the URL has accrued from the old URL to the new location. It's important to know that the 301 redirect does not pass all of the value from an old URL to a new one. The new URL does need to build its own level of trust with the engines, which is why we won't simply transfer full value to new URLs.
In other words, search engines need time to crawl the new URL, understand it, and make sure you haven't created a duplicate page. This will depend on how often the search bot visits your page(s) and can therefore take weeks or even months. Google recommends you keep the 301 redirect in place for at least one year.
This means you may see a dip in your SEO for the renamed section for a while because the search engines need time to index the new URL properly and credit the new page with the rankings and trust the previous one had. In addition, the newly named section will build its own organic traffic over time, which may differ slightly from the traffic to the old section. Ideally, the new name will generate more user interest, of course!
---
Related