Overview
The Admin is responsible for adding and deleting new sections/subsections to the site. The day to day maintenance of those sections should be done by an Editor.
NOTE:
As of Metro Publisher's v4.0 release, blogs have been deprecated. Please use the content type article for blog posts and our diverse range of Sprockets to present your entries.
Editing a Section
When creating a new section or editing an existing one, be sure to fill out all of the fields and add all the relevant meta data. This is an important part of your site's search optimization. You may modify this information at any time.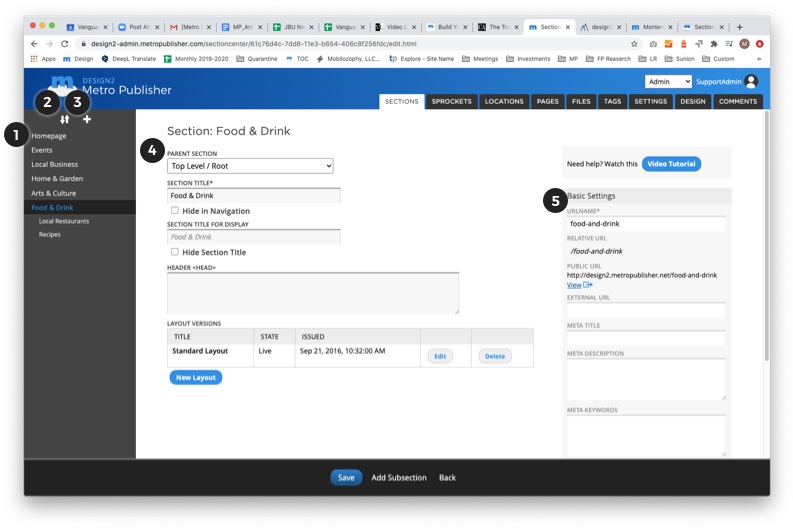 1. Section List
This list display all your current sections and subsections. Click on an item to edit a section.
2. Reorder Sections
Click on this icon to get to the page for reordering, merging, or deleting your sections.
3. Add Section
Click this icon to add a new section (Admin only)
4. General Settings
Parent Section
This is determines where this new section appears in your site's structure. Choose "Top Level/Root" to create a top level section. Choose any of the existing Sections, if you want to make a new "Subsection."
Section Title
This is the page title that will appear at the top of this section page and throughout the admin. By default, a link to this page will be inserted into the main navigation using this section title.
Hide in Navigation
If you click this option, the section will be active but will not appear as a link in the main navigation. You can use a hidden section to test things such as sprockets before putting them into a live section that is viewable by the public.
Header
Insert HTML/JS into section header. (Pro only)
Layouts
Create and edit new section layouts. Read more...
5. Basic Settings
URL Name
By default, the section URL will be the same as the section title but in all lower case with dashes separating the words. It is advisable to leave this auto-generated URLs as is, but they may be changed here if necessary.
Relative URL
If you want to link to this section from anywhere else within your website, use this path or "Relative URL" to do so.
External Section URL
Instead of linking to an auto-generated section page, you may link to any URL. Just paste in the complete URL here.

For example, if you would like a link to an event search page, just paste in the URL here. You do not need to paste the entire URL, just the Relative URL:

Example: /search/event/upcoming-events/

NOTE: The "relative URL" for a particular location or event search can be found on the respective edit page for that search.


Meta Title
This is the page title that will appear in the browser when users are viewing this section. This should be the same as the Section Title.
Meta Description
The meta description appears in the search results of popular search engines. This should be a clear and concise description of what this section contains
Meta Keywords
Meta keywords are descriptive keywords used by some search engines to help understand and rank your page relevance. They should be words that actually appear in the content of your site. For more information, read about meta elements here.
Show Previous/Next Links
By checking this option, links to the previous or next piece of content will appear with all your content entries. More information on content can be found here: Content Types Overview
---
Reordering Sections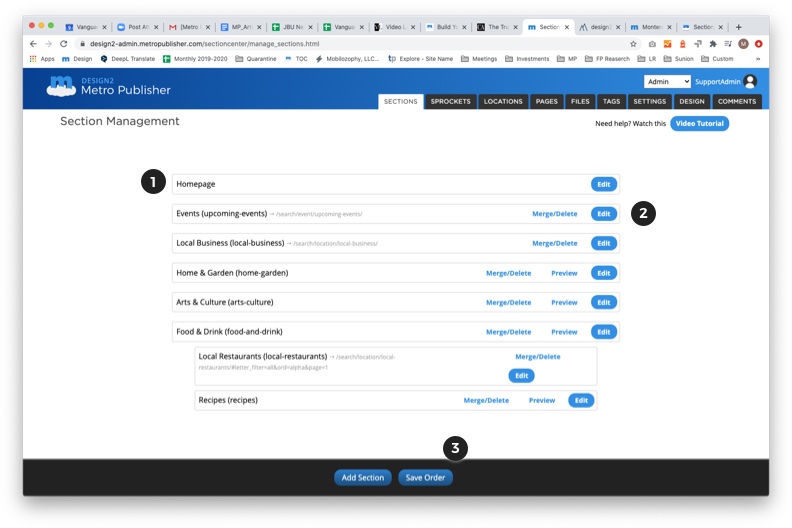 1. Section Order
The navigation is two levels – Sections and nested subsections.
The order in which the sections/subsections appear in the navigation is from top to bottom.
To reorder, simply drag and drop.
2. Section Tools
Merge/Delete – Merge this section with any other. To delete, merge with any other section, subsection, or root (top) level.
Preview – Opens preview of live page.
Edit – Edit section settings or landing page layouts.
3. Save Order



---
Related