Metro Publisher Pro Accounts offer many additional features:
500 GB data transfer
Advanced design studio
Open Graph title and description fields on content (for social media)
Header field for content to insert Twitter Cards code
Tools for custom CSS/JavaScript to make design adjustments and add functionality
Access to the Metro Publisher API
Automated related links
QR Codes
Upgrading is easy! You can change your plan settings anytime.
Data Transfer
Pro user accounts include 500GB data transfer per month compared to 200GB for standard accounts.
Design Studio
Pro users have access to Metro Publisher's Design Studio, which allows you to fully customize site CSS. Please visit our Designer Tasks section for our guides on applying custom design to your site.
Related Links
Pro users have the option to add related links to content, as well as the option to customize the header text in the Default Texts settings. By default the header is labeled "Related.":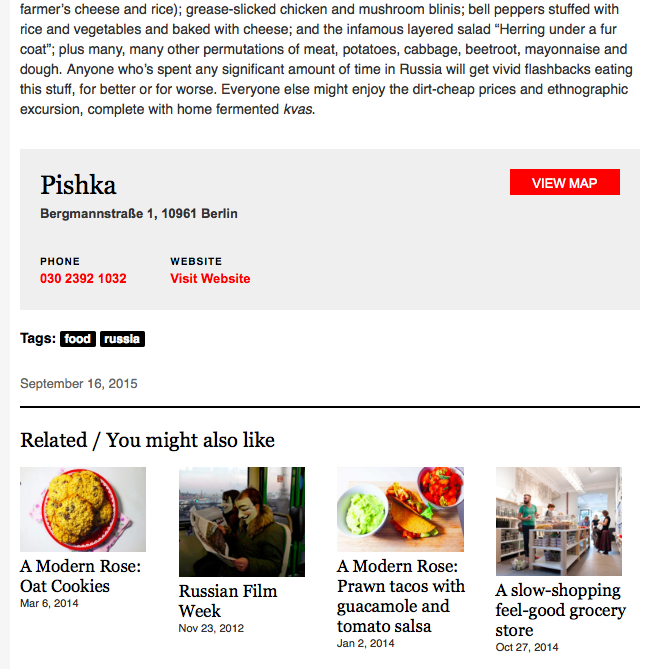 There are two ways to add related links; manually or automatically by tag.
Manually Adding Related Links: Click "Add Link" to call up content selector. Filter and select desired piece of content or enter your own URL. Add custom link text through the "Link Title Override" field. To delete a link - select the row and click "Delete Link" button.
Automated Related Links: To automatically have related links appear:
Under Admin > Settings > Content input the "Related Links Limit (max. 10)." This determines the maximum number of automated related links that appear at the bottom of a piece of content. Leaving this blank keeps your related links set to be entered manually.
Once your settings have been configured, the automated links will appear on all your content by tag. That means that when you tag an article, for example, Metro Publisher will add related articles with the same tag(s) sorted by issue date. However, you still have the option to add other links manually on any individual piece of content. From the edit page of any piece of content, you can manually select content as described above.

For more information on related links and examples of how they can be used please take a look at our blog post: Loyal Audience Growth with Related Links
Author Information
Pro users may feature extra author information to be added below Content.
Pull author tag info:

Shows both authors and editors of a piece of Content
Thumb
Title
Description
And link to topic page
Multiple authors = stack the author info boxes

Configuration option under Admin > Settings > Content

[ √ ] Show Author Info in Content
QR Codes
Pro Users also have the option to use QR codes (Quick Response Code). QR codes can be added to print. This allows mobile users with QR code apps to jump quickly to your website.

Article edit page with QR Code
To use a QR Code:
Go to the edit page for a piece of content
At the bottom of the page, click on the link for the QR Code
Download the large image of the QR code.
Use that code in any printed piece you would like to link to that particular piece of content.
For more information on QR codes please take a look at our Metro Publisher Blog posting: Boost Traffic with Automatically Generated Quick Response (QR) Codes
Open Graph Title and Description
For Pro users, two additional fields are available on content – Open Graph title and description. These allow you to write specific titles and descriptions that are displayed when sharing your content via social media. This is a helpful tool for increasing engagement with your readers.
Twitter Cards
Pro users can activate the 'Header field for content' in the admin content settings tab and insert the Twitter Cards code there (for articles and sections).