Here are some common terms used throughout Metro Publisher as well as supporting documentation.
Account Dashboard
This is the top level landing page you arrive to once you log in to Metro Publisher. Here is where you can update any account level settings such as billing info, personal and/or company info, your email, etc. Here also is where you can see which instances of Metro Publisher to which you have access.




Example: Account Dashboard
To get to your Account Dashboard:
Go to metropublisher.com
Click "Login"
Content
Content refers to any article, blog entry, review, roundup, and (in some cases) events and locations. As opposed to the the homepage, section landing pages, event or location searches, and any hard-coded stand-alone pages, content represents the bulk of your website. It the archived written works from your publication. Read more...
Content Editor
The content editor is the text edit tool that is used to insert and/or edit text, links, images, and other media into your content.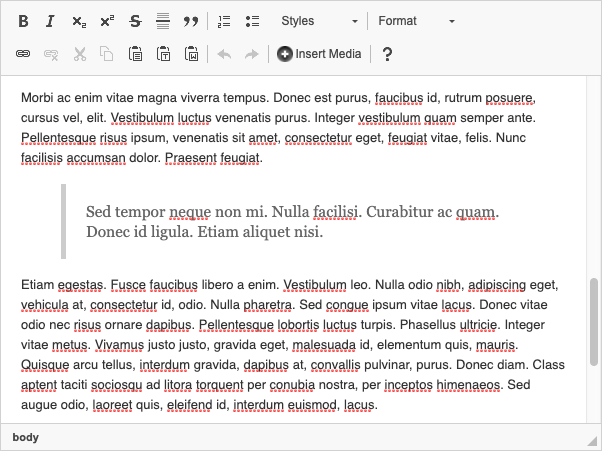 Example: Content Editor
Domain
The domain is the web address of your public website. When you first get started your instance will have a temporary domain that will look something like this:
mywebsite.metropublisher.net
This is the real website and a live domain, but it is not your own custom domain. When you are ready to "launch" your website, you will point your custom domain to the IP address for Metro Publisher's servers. Read more...
Edit Page
The edit page is any page within your Metro Publisher work site that you use to edit any aspect of your website. For example, any piece of content has an edit page. You go to that page to edit the article. This is useful when submitting support issues. It is important to provide a link to either the public page or the edit page to where you are having trouble.
External URL
An external URL is a link to any other website or web page that is not on your own site.
Instance (of Metro Publisher)
Account owners may have more than one Metro Publisher website. We call those different websites "instances" of Metro Publisher. At the same time, any user may have access to different instances. On your account dashboard, all instances that your user has access to can be found.
Launch
Making your site available for view by the public with your own custom domain is called "launching" your website. When you are ready to "launch" your website, you will point your custom domain to the IP address for Metro Publisher's servers. Read more...
Locations
In Metro Publisher "locations" are most similar to what might be called "business listings" in other systems. They contain basic contact information about any place or business. Locations are the basis of all the map based features found in Metro Publisher. Read more...
Pages
While content comprises the bulk of Metro Publisher websites, there are situations where publishers want to have stand-alone pages for a variety of purposes. In our system those are called "Pages." Read more...
Public Site
This is the public facing version of your Metro Publisher website. As opposed to the edit pages from your work site or any preview pages, the public site is what your readers see and interact with.
Redirect
A redirect is a technical term for when a user types in or clicks on a specific web address but Metro Publisher "redirects" or sends that users to a different address. This is most commonly used when older pages are no longer available. Redirects are used to send the user to the new page. Generally, in Metro Publisher whenever content or sections are moved or edited our system will automatically create the proper redirects. There is also a robust redirect tool that can be used if required. Read more... 
Sprockets
A Sprocket is a cute name for a Metro Publisher widget that displays information on your section/subsection landing pages and on the right rail of your content – i.e. articles, blog entries, etc. They are used throughout your website serving as the main tool for managing and organizing related or teaser content. Read more...
Tags
Tags (and Topics Pages) are very useful tools in Metro Publisher, allowing you to present and organize Content based on your readers' interests and needs. They can also be used for internal (hidden) automations to present specific lists of Content. Read more...
Topic Pages
Topics Pages are automatically generated pages that aggregate and display all articles, blog entries, reviews, events, videos and slideshows that contain the same tag. Read more...
URL
URL (Uniform Resource Locator) is the technical name for the actual web address of any website or web page. 
For example:
mywebsite.com
mywebsite.com/recipes/apple-pie


Web Address
Web address is the colloquial name for URL.
Work Site
The "work site" is the place you go to edit any aspect of your Metro Publisher work website. For example, any piece of content has an edit page.
To get to your work site:
Go to metropublisher.com
Click "Login"
Find the instance you would like to edit and click the blue button that says "Edit"