Overview

Tags and Topics Pages are very useful tools in Metro Publisher, allowing you to present and organize Content based on your readers' interests and needs. They can also be used for internal (hidden) automations to present specific lists of Content.
This article covers the following features:
Introduction to Tags and Topics Pages
Above: Sample Article with Tags linking to a Topics Page
Tags
Tags are keywords that can be associated with any piece of content within Metro Publisher. Of all the tools available to you for your web content, tagging is probably the easiest to use and most important for publishers. In Metro Publisher, Tags appear by default in the public pages of all content types as links to Topics Pages. This allows visitors to your site to find other content that might interest them based on a topic or subject.
For example, the image above shows an article that has been tagged "sneakers" because it is an article about cool sneakers. At the bottom of the article appears the Tag "sneakers" which links to a Topics Page that contains all articles, blog entries and videos that have also been tagged "sneakers." The result is that even though the reader may have found this page via a search on the web for "sneakers" or a featured story on your homepage, that same reader can find and peruse similar stories within your site by simply clicking on the Tags at the foot of each article.
Topics Pages
Topics Pages are automatically generated pages that aggregate and display all articles, reviews, videos and slideshows under the same tag. They are automatically ordered by most recent content and will drive navigation throughout your site.
In addition, they will increase your site's search relevance and drive traffic to your site. Search engines pay more attention to frequently updated pages. By building up and maintaining great Topics Pages, you increase your site's search relevance.
By uploading an image and adding text to your tag edit page, you will be creating the header image and introductory text for the respective Topics Page, for example, an author: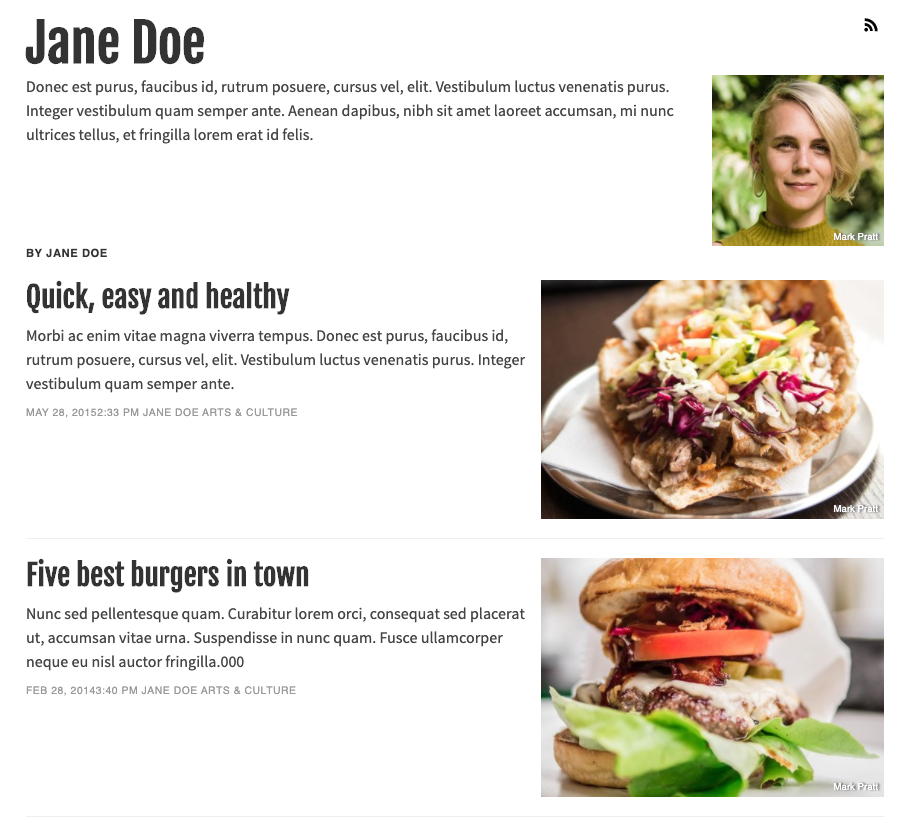 Tags and Topics Pages bring all your content together based on your reader's interest, increase page views, and let readers navigate based on their interests.
Build up Tags and Topics Pages with archived content before you launch and keep the habit going. The gains will be worth it!
Up to 20 items will load initially when a Topics Page is visited. Using the "View More" button at the bottom of that list, readers will be able to view four more items at a time.
Please note: Topics Pages inherit right rail Content Sprockets from the Homepage/Root Section.
NOTE: Currently, Topics Pages show content only. Events are not displayed to avoid outdated information on the page. Should no content be found, the message "no content with this tag" is displayed.
Tag Management
Tags Overview
Adding & Editing Tags
Internal Tags
You can mark tags as internal on occasions when you are using Tags to facilitate automation without displaying the Tag on public side.
Internal Tags do not appear up on the live site and no Topics Page is created:
1. Go to the Tags Overview via Editor > Tags > Tags
2. Add the Tag via the 'Add' button from the menu at the bottom of the page
3. Go back to the Tag Overview and select the Tag(s) from the table*
*To select multiple Tags, hold down the CTRL key while selecting individual Tags
4. Click the "Change State" button in the menu at the bottom of the page
5. A dialog will appear; click "Mark as Internal"
Internal Tags may be used for company-wide organizational purposes or for automation. For example, 'Headline Stories' could be an internal Tag, which may then be added to the Headline Stories feature on the Homepage. In this manner, only stories with that Tag appear That Tag is not seen by the readers.
Another use-case may be to mark draft articles that still need to be reviewed or authorized for publication. With the help of the 'Usage' number link on the individual Tag edit page, you can reach the overview table of all Content with the respective Tag. This allows quick access to the list of articles in line to be reviewed.
Tag Categories
Tag Categories are essential for managing Tags and providing filter options on Searches. They allow your readers to filter for Search results that specifically interest them. How Tag Categories work in Metro Publisher is outlined in this article: Tag Categories
NOTE: Only Tags that have not been placed in a Category are shown in the Tags area on Event content. Any Tags assigned to the Event that are in an Event Category are listed under the Event information heading 'Event Category'.
Choosing a Useful Tag
While it is important to tag everything all the time, the quality of your tags is also key. Tags should be specific enough to relate content you might have written several entries about, but not so specific that only one or very few entries would appear on a topics page.

Example:
If your publication annually writes a single exposé of a local harvest festival, a good tag for this might be "Harvest Festival." With this Tag, the topics page will display each year's article. Readers then will have the opportunity to peruse stories about the Harvest Festival from previous years in addition to the current article.
If, however, your publication extensively covers the Harvest Festival every year with numerous stories on a variety of subjects related to the festival, it might make more sense to use a tag like "Harvest Festival 2014." That way, all the stories related to the Harvest Festival for a particular year will be grouped together.
Using Topics Pages as Automated Archive Pages
Tags may also be used to create auto-generated issue archive pages. This requires minimal effort on the editorial side and very little additional time for staff.
By using issue numbers as Tags, all articles on the website that also appeared in print can be grouped together. Just add the cover art and description to the Tag in the admin and Metro Publisher will automatically generate an issue archive of your latest edition.
Linking to Topics Pages
By default, a tag will appear as a link to its appropriate topic page. Additionally, you may link to any topics page directly from sprockets, headline stories, featurettes or related links. To do so, you will need to know the url for the tag which follows a simple naming convention.
By default, the Tag URL will be the same as the Tag title, but in all lower case with a dash separating each word. It is possible to change the url, so you should check the the Tag admin to be sure. To link to a Topics Page, paste a path following this convention:
Example: yoursite.com/topics/title-of-tag