Metro Publisher makes extensive use of event searches that enable publishers to highlight local events and businesses. This guide provides a general overview of Events, Event Searches, and Event Calendar Sprockets.
For full screen viewing, click the expand icon in the video player.
Events can be found under the Events tab in the main navigation. Similar to reviews, events are like articles that have a location attached. But because events are very specific to a time and a place, additional information about the event is included. In order for events to show up on any of the map based event searches in Metro Publisher, it is essential for the location information to be included with the event.

Samples:
Expiration Date
Past Events, i.e. Events that have expired, can be removed from being displayed on the public side of your site by activating this option in the Content Settings (in admin role).
The state of those Events will not change in your admin backend, nor will they be deleted from your database. If selected, the option will apply retroactively to all existing Events in your system.
Those events' links will return a 404 on the public side, which does not affect your SEO and tells search engines that the page is gone.
Expired events can further be deleted manually via the events overview table, by the way. That helps keep all client sites running smoothly, since a large backlog of events slows down queries.
To activate the expiration date option:
Change to Admin role
Go to Settings > Content
Scroll down to the "Events" heading in the settings list on the right
Enter the desired number in the field labeled "Remove events X months after the end of the LAST occurrence. Leave empty to keep all events."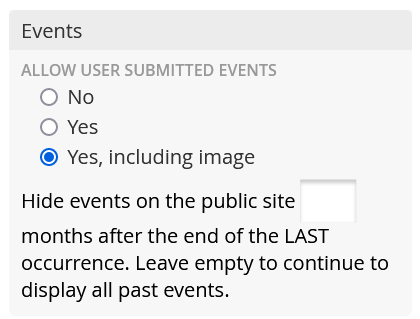 User-submitted Events
Your readers can submit Events to your site by default, which you can then review and decide to include in your calendars. The following documents outlines this feature: User-submitted Events.
Event Searches
Event Searches allow your users to browse through all of your current and upcoming Events. There are different configuration options and you can create as many of these as you like.
Event Searches include a list of Events, a keyword search tool, a map with markers for the Event locations, a calendar for browsing Events by date, and Event Categories representing filter options with which reader can filter for specific Events based on their particular interests.
For information on how to set up Event Searches and how Event Searches work in Metro Publisher, please read the following support document: Event Searches.
To learn how to link to Event Searches, please visit the following document: Linking to Event Searches.
Event Calendar Sprockets
Event Calendar Sprockets are displayed as a list of current/upcoming events along with any Tags you apply to them. Event Calendar Sprockets can be configured to automatically link to an Event Search Page and therefore function like an Events teaser.
For more information on setting up an Event Calendar Sprocket, please review the following guide in the Sprockets section of this support site: Event Calendar Sprocket
Event Subscriptions
With the 2.5 Release, Metro Publisher also gained a functionality for Event Subscriptions. This is a powerful feature as it enables you to subscribe to Calendars from individual locations (such as a comedy club or musical venue). See this Video/Guide for an overview: Event Subscriptions.
Event XML Export to an InDesign Print-based Workflow
Please see this guide on how you can select and format events in Metro Publisher for import into an InDesign driven workflow for Print or Digital Edition based production: Event XML Export Into InDesign
Featuring Events