Overview
NOTE: Although the user interface has changed, the concepts in this help video are still the same and the updated version of your Content Settings is described in the text below the video.
For full screen viewing, click the expand icon in the video player.

Settings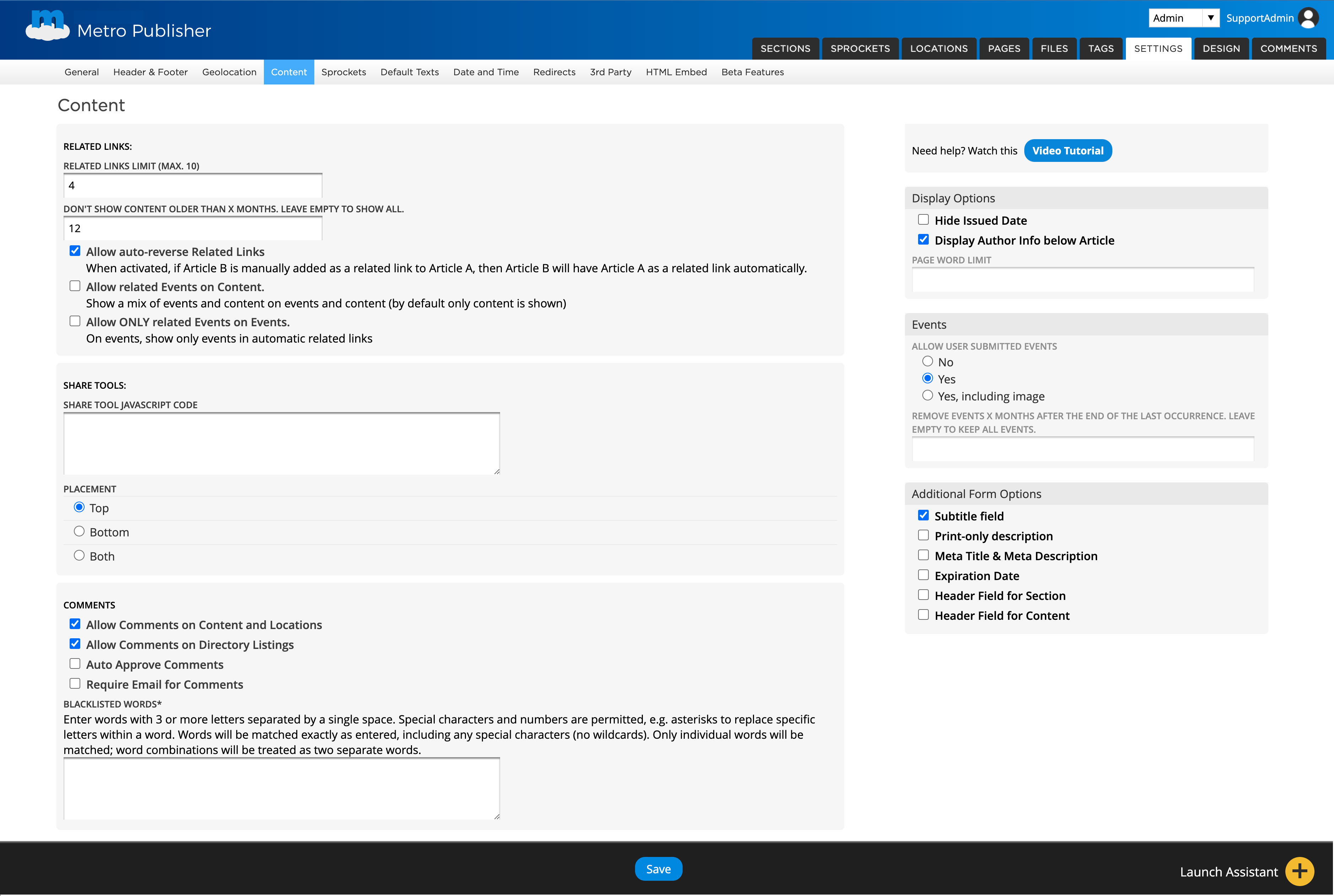 NOTE: Metro Publisher PRO clients have additional fields for configuring our Related Links feature under Admin > Settings > Content. Read more...
1. Share Tools

You may insert third party sharing widgets within your content.
Position Share Tool: If you are going to use the Facebook Like Box or a social media share widget, this setting allows you to specify whether those icons appear above, below, or above AND below your content.
Share Tool JavaScript Code: Paste JavaScript for social sharing tools here. For instruction on how to get the correct code, read this guide: ShareThis Widget.
2. Events
Users may upload Events to your site via a default link on the Event Calendar Sprocket, which you then review before publishing:
Allow User-Submitted Events: Check this option if you want to allow users to submit their Events to your site.
Do not allow User-Submitted Events: To hide the link for user-submissions on the Event Calendar Sprocket, uncheck this option.
Remove Events: Past Events, i.e. Events that have expired, can be removed from being displayed on the public side of your site by activating this option.

The state of those Events will not change in your admin backend, nor will they be deleted from your database.

Please note that your search pages will show the Event (if an old occurrence happens on the selected date or within the selected date range, e.g. if the user searches within a date from several months ago). The Events set to expire off the site won't appear on Sprockets, e.g. a Layout List Sprocket, however.

If selected, the option will apply retroactively to all existing Events in your system.

To activate the option:

Make sure you are logged into as the Admin user role
Go to Settings>Content
Scroll down to the "Events" heading in the settings list
Enter the desired number in the field labeled "Remove events X months after the end of the LAST occurrence. Leave empty to keep all events."
3. Display Options

These are three general settings for your content pages:
Hide Issue Date: Hides issue date on all content throughout your website. This is useful if you do not publish new content often and you do not want your web content to appear old or out of date. If you choose to show issue date, you will still have the option to hide the issue date on an individual piece of content.
Page Word Limit: This determines the number of words before a piece of content paginates. Leave this blank if you do not want your content to paginate.
4. Comments
Users may comment on all content types (articles, events, recipes, roundups, reviews) and locations. Set approval behavior here:
Allow Comments on Content and Locations: Check this option if you want to allow commenting on your content. *this will appear as the only option when it is unchecked
Allow Comments on Directory Listings: Check this option if you want to allow commenting on paid-for business directory listings in accordance with your advertisers' wishes.
Auto Approve Comments: All comments will be published automatically. Users will be able to see their comments on the public pages instantly. In order to remove unwanted comments, an admin or editor may remove published comments manually. If you do not check this option, comments will require manual approval before they appear live.
Require Email for Comments: Check this option to require users input an email when they comment.
Blacklisted Words: Impede manual spam by listing words that will block a comment from being uploaded to your system. Enter words with 3 or more letters separated by a single space. Special characters and numbers are permitted, e.g. asterisks to replace specific letters within a word. Words will be matched exactly as entered, including any special characters (no wildcards). Only individual words will be matched; word combinations will be treated as two separate words.
5. Additional Form Options

There are three options for additional information within your content:
Subtitle: The subtitle field appears on the public pages below the title within a piece of content.
Print-only Description: Here you have the option to add an alternate description to any piece of content for use outside of your website. This feature is most useful for event exports to InDesign or for clients using the Metro Publisher API. This field does not appear on the public pages of your website.
Meta Title & Meta Description: The meta title and description field allows you to insert search optimized text on individual pieces of content. If you choose not to activate this option, the meta title and description fields will automatically be inserted with the text from the title and description of your content. These fields do not appear on the public pages of your website.
Expiration Date: It is not often, but once in a while there may be content that you'd like to hide by a certain date. That's where you can make use of the Expiration Date option for content.
The Content isn't unpublished, but will no longer appear in Sprockets, related links, nor be reachable via its URL (404). It is hidden from view without being removed from the database or its "published" status being changed.
First activate the option for all content.
Make sure you are logged into as the Admin user role
Go to Settings>Content
Activate the Expiration Date option
Once that option is activated for content you'll notice a new "Expires" checkbox. When it is checked, it will provide you extra fields for you to provide the date & time of expiration.
PRO Clients
Metro Publisher PRO account clients have additional configuration options for Related Links on this content settings page:

There are two ways to add related links; manually or automatically by tag.
Manually Adding Related Links: Click "Add Link" to call up content selector. Filter and select desired piece of content or enter your own URL. Add custom link text through the "Link Title Override" field. To delete a link - select the row and click "Delete Link" button.
Automated Related Links: To automatically have related links appear:
Under Admin > Settings > Content input the "Related Links Limit (max. 10)." This determines the maximum number of automated related links that appear at the bottom of a piece of content. Leaving this blank keeps your related links set to be entered manually.
Once your settings have been configured, the automated links will appear on all your content by tag. That means that when you tag an article, for example, Metro Publisher will add related articles with the same tag(s) sorted by issue date. However, you still have the option to add other links manually on any individual piece of content. From the edit page of any piece of content, you can manually select content as described above.
Please note that Evergreen Content is displayed in Related Links. The "evergreen" setting option you can select when editing a piece of content overrides the "don't show content older than X months" setting for Related Links.
Read more about Related Links including tips on growing loyal audience with this feature here: PRO Features