Here is a quickstart guide to help you set up a basic Location Search in Metro Publisher.
Overview
Locations Searches allow you to create map or list searches of specific Locations or Business Types from your database. For example, you may want provide your readers with a way to search bars and restaurants. If you are a free publication, you may want to create a location search that displays all of the locations or businesses that carry your magazine. With Location Searches, you can do this.
There are different configuration options and you can create as many of these Location Searches and/or "Business Listings-only" Location Searches, i.e. Directory Searches, as you like.
On your website, Location Searches look like this: there is a list of Locations, a keyword search tool, a map that shows Location markers (pins), and custom Categories that you create, which allow your users to filter according to their own interests.
Quicklinks to specific regions or neighborhoods can also be added to offer further filters in accordance with your users' interests. Additionally, there is an option to include a map search, so your users can browse through pins on a map instead of a list.
This document covers the following topics. You can follow these links to jump to the specific sections in this document:
Adding and Editing Location Searches
List View Search Page
List View Includes:
Search Box and Map Toggle
Keyword search will scan businesses titles, addresses, and description fields. Alphabetical list allows users to jump to Listings ordered alphabetically. Toggle allows your users who prefer a map based search to switch.


Business Listings
For those of you with the Directory add-on, configurable options to display (up to five) featured businesses.


Locations Ordered by Latest Modifications
When the search pages first load, Locations are ordered by latest modifications to the Location, instead of alphabetically. This makes the page less static and alleviates the bias against businesses with names that appear later in the alphabet. Once a user filters, the list changes to alphabetical for easier browsing.



NOTE: Should you wish to display your Locations alphabetically on the initial page load, you can do so by linking to your Location/Listings Search with the following path instead of the default:

http://www.yourdomain.com/search/location/name-of-your-location-search/#letter_filter=all&ord=alpha

Please also note that it is not possible to choose a specific display order manually on location searches.

The display order works like this:

Directory listings are not displayed ahead of non-sponsored listings unless you choose up to 5 to display at the top or on the right.


If you have a location search with mixed businesses, so paying and non-paying, they will be displayed by last modified or alphabetical (if you direct-link to alphabetical) or as a pre-filtered search on first load of the page, depending on what you set. How to create those links is described here: Linking to Location Searches


Once the readers filter themselves using the categories/tags you set on searches with more than one tag, the list will reduce, but it will still be in the order you chose. Sponsored listings would only appear at the top if you modified them last.

If you'd like to highlight specific listings, there are Sprockets you could use, or you could create a Location Roundup, which gives you the flexibility to order the locations as you wish: Roundups (Locations / Events / Content)

Keyword Search And Search Filters
Users can search by Location types or use keywords to find businesses. Search will scan businesses' titles, addresses, and description fields.


Search Engine Optimized
With the implementation of industry standard formats like Microdata, business information for Locations may easily be discovered by search engine robots.


Map View Search Page
Map View Includes:
Quicklinks and List Toggle
Quicklinks to allow users to jump to specific areas. Toggle allows your users who prefer a list based search to switch.


Business Listings
For those of you with the Directory Add-on, configurable options to display (up to five) featured businesses.


Cluster Icons
In addition to Quicklinks, users can zoom into high density areas with automatically generated cluster icons.


Business Information
Displays business name, description, logo, and links to events and reviews.


Keyword Search And Search Filters
Users can filter by search by Location Types or use keywords to find businesses. Search will scan businesses titles, addresses, and description fields.


Search Engine Optimized
With the implementation of industry standard formats like microdata, business information for Locations is easily discovered by search engine robots.
Adding and Editing Location Searches
Title and Basic Information
Title: This is the name of the business as well as the title that will appear at the top of the location page.


Description: This is a short description (250 characters or 1-2 sentences max) that appears on the top of the Location Search Page. This should be short and to the point.


URL: By default, the URL will be the same as the Location Search title but in all lower case with dashes separating the words. It is advisable to leave the auto-generated URLs as is, but they may be changed here if necessary.

All location searches follow the same rule for URLs:


yourdomainname.com

/search/location/location-search-title


Relative URL: The path you would use to link to your search. For example, if you wanted to add a navigation item to link directly to the Location Search, you would use the relative URL to do that.


Bottom Text: Allows you to add some additional text below the search results. This is useful if you want to add disclaimer text for your Locations, for example.


Meta Data
Meta Title: This text appears in the browser window as the page title. If this field is left blank, the Location Search title will take its place by default.


Meta Description: This is the description that will appear in search results with the page title.


Meta Keywords: These are the keywords that search engines look for. NOTE: Once important, meta keywords have become of negligible value today.


Section
Section: Setting the section or subsection does two things. First, your Location Search Page will inherit ads from the specified section or subsection. Second, the navigation will show that search to be inside the assigned section or subsection.
Map Settings & Quicklinks
Location Searches have a default map which you must set here as the starting point for any search. The zoom level and position of the map are important because they determine which Locations will appear. For example, if you would like to have a search of all the restaurants in San Francisco, you must set the map so that the entire city of San Francisco appears.

NOTE: The small map on the List View page always/only shows the pins for the results currently displaying on the list of that page in the moment you are viewing it. If you navigate to page 2 of the List View, the small map will adjust to the results/locations listed on page 2.

The List View results does also depend on the map settings for the specific Location Search. 620x620 pixels of this map (which you set) are shown on your Location Search edit page in Admin.

There is a system buffer around this map, however, so that the actual map that the results and map zone are calculated from by said system is 900x900 pixels.

Our system uses the center of that map plus the zoom factor you apply and calculates a 900x900 pixel square from that information.

This buffer exists because the maps are squares and not random shapes; this can cause some locations that are very close to the edge of the map you set in admin to be excluded from the search results. In addition, several clients want locations that are very close to specific region or district/neighborhood to be displayed as well.

The CSS determines the size at which the map is displayed on various screen sizes and devices. The buffer also exists so that the map can adjust to the different screen sizes your readers will be using without leaving any results out.

If you zoom out one step from your set zoom factor in Admin it will give you a good idea of the area in which the results will lie.

By the way, you can create individual Location Searches for each region or city or neighborhood and thereby reduce or remove all Quicklinks and specify the maps accordingly, if you wish.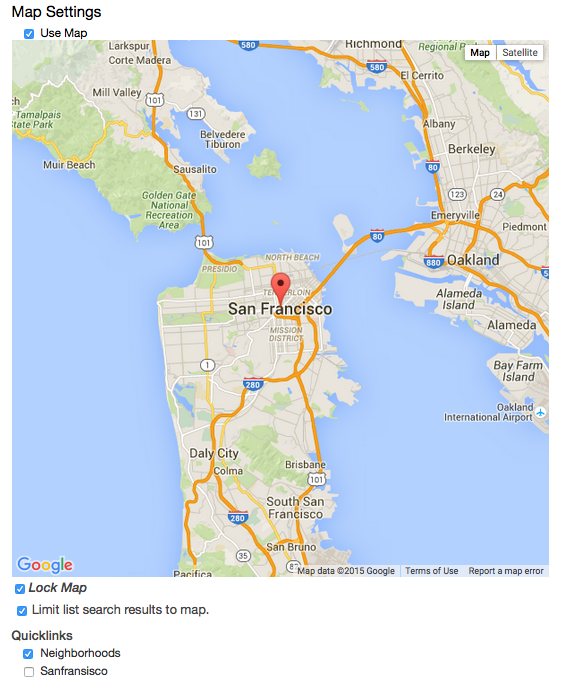 Use Map: Checkbox to add a large map for map-based browsing option. It appears as a link to another search page where your users can browse for Locations on this map. You must manually set the zoom level of the map to include the area that you want to show Locations in.


Lock Map: Option to lock or unlock the map to edit the zoom position and level. This map zoom level is the starting point when the page loads. The checkbox allows you to either show all Locations, even those that are outside of the current zoom level, or to limit the results to only the areas seen on the map.



NOTE: You must uncheck this box for Locations with no address to also display in the List and for their Tags to be available within the Search Categories selection list!

The search results will then include locations

without

addresses as well as locations

with

addresses, as long as their tags are in the categories you've assigned to the search.

You still get the map with the pins for any locations that do have a map and you get your list results displaying on the page, as with other searches that you

do

limit to the map area.

If you create a virtual-locations-only search, then the map will appear, but won't have pins, so ideally you would make it clear in the search title that this is a special search for that purpose only.

Quicklinks: Quicklinks are displayed as a dropdown menu option for your readers to jump to other map zones. For example, you could create Quicklinks to specific neighborhoods within your town. If you are not familiar with Quicklinks, please read the document: Creating Quicklinks and Mapzones.



NOTE: For Quicklinks to appear on Location and/or Event Searches you MUST check the 'Limit Search to Map' box at the bottom of your Search editing page in Admin.

To find out more about using Quick Links and Map Zones on Location and/or Event Searches, please read the following document: How Map Zones and Quicklinks Relate to Location/Event Searches.

Results per search page: Select how many results should appear on each page.
Search Categories
Without Categories, a Location Search is merely a list of all the locations you have published in the system. Categories are a critical feature that allow you to create specific Location Searches for specific areas, such as a Location Search of all local restaurants.
Categories are therefore groupings of Tags which you create yourself, that allow your readers to find the specific Locations that interest them, such as restaurants offering a specific type of cuisine.
Categories are managed within the Tags section of your work site. To find out how those work, go to Editor > Tags > Categories and watch the video there, or visit the Tags documentation on this Support site.
For the purpose of filtering, it is important to know that the relationship between Tags of two different Categories is an AND relationship.
This means that you would need to place the Tags 'Brunch' and 'WiFi' in two separate categories for readers to find a Location that offers both brunch AND a WiFi connection.
Between two Tags of the same Category there is an OR / OR ALSO relationship.
Say you have a Category called Location Type, for example, that includes the Tags 'Bar', 'Restaurant', 'Cafe', 'Cinema', 'Museum' etc.
This would mean that your readers could select both 'Bar' and 'Restaurant' from the 'Location Type' Category you created to find all Locations that are either a bar, or a restaurant, or both.
Search Groups
Search Groups allow your users to toggle between various search pages. A search group is displayed as a dropdown menu on your "Listing-only" and Location Search pages.
Benefits:
Behaves like a single search, but sends users to individual search Pages
Analytics – individual search pages can be found in analytics reports
More focused SEO around specific searches


A "Listings-only" or Location Search can be assigned to only one Search Group but may be moved as needed.