The Editor User Role
Once you log in to your Metro Publisher dashboard via go.metropublisher.com you will see the Editor features tabs at the top right of your screen. There is some overlap with the features Admins have access to: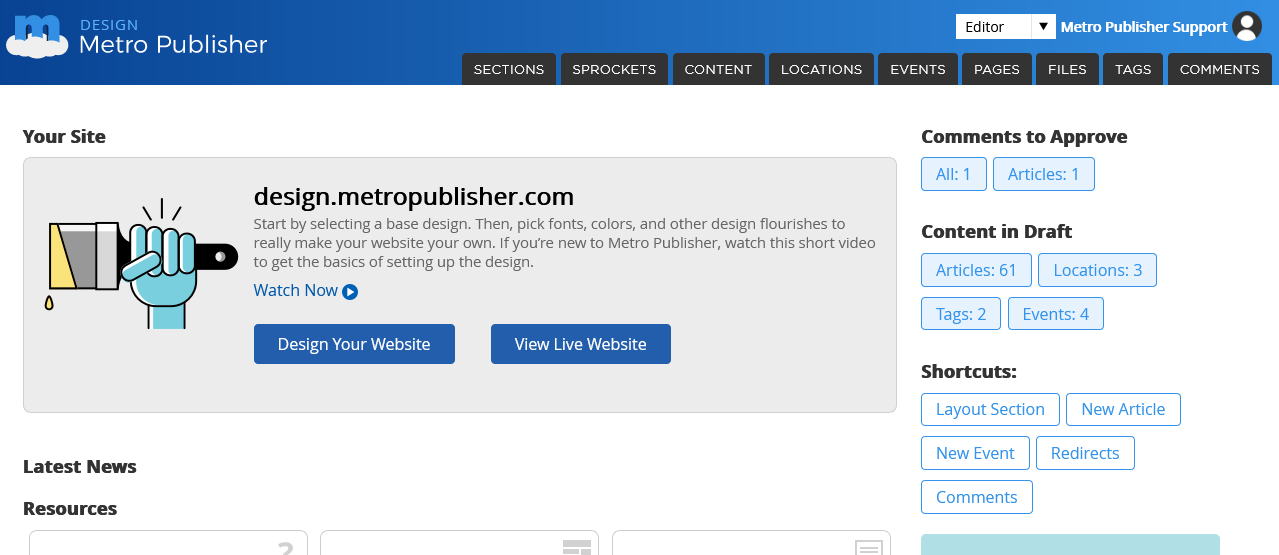 Editors are responsible for overseeing and publishing all Content. Managing Content Presentation & Layouts is also part of their daily tasks. This includes changing the state of Content from "draft" to "published" and vice versa. They can also create new Layouts for Sections (but not create or delete Sections) and monitor Comments.
Permissions of an Editor include:
Edit Sections/Subsections, including Homepage
Add, Edit, and Delete all Content Types
Add, Edit, and Delete Locations & Locations (Business) Searches
Add, Edit, and Delete Events & Event Searches
Add, Edit, and Delete Reviews, Recipes & Roundups
Add, Edit, and Delete Freeform Pages
Add, Edit, and Delete Files, e.g. Images & PDFs
Edit Sprockets
Export Content, e.g. for Print
Edit and Reply to Comments
Subscribe to RSS Notifications for Editors
For more information on the features Editors have access to, please visit our respective help articles: