Administrator
Once you log in to your Metro Publisher dashboard via go.metropublisher.com you will see the Admin features tabs at the top right of your screen. There is some overlap with the features Editors have access to: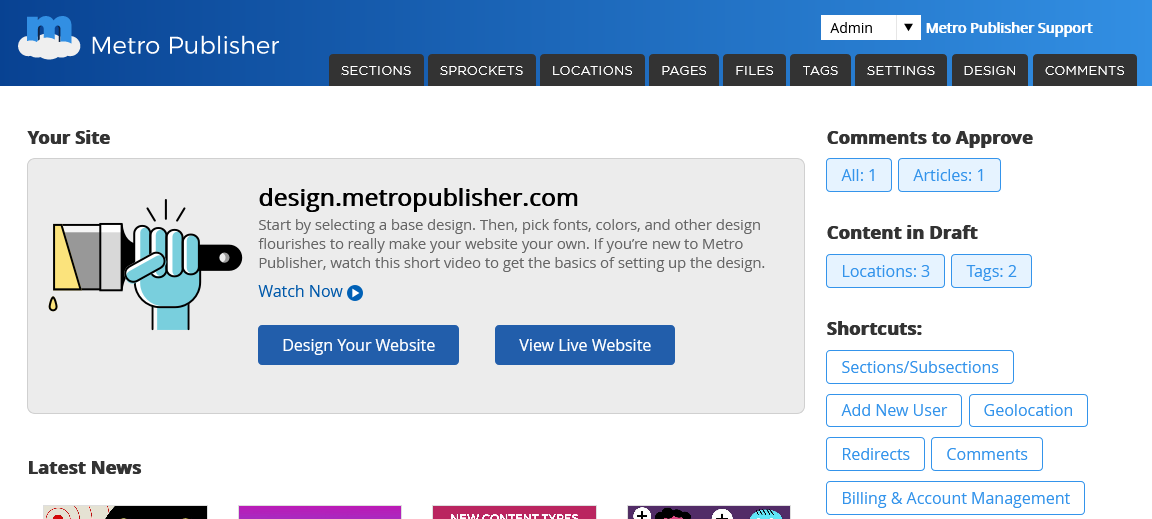 Administrators are responsible for the structural elements and the general settings of an individual Metro Publisher instance (website). A bulk of the administrator tasks are done prior to the launch of a new website.
Permissions of an Administrator include:
Invoice Administration
Add, Edit, and Delete Users
Add and Delete Sections/Subsections
Edit General Settings
Edit Social Media Settings
Set Website Geolocation
Edit Content and Default Texts Settings
Add & Edit 3rd-Party Integrations
Embed 3rd party code in the site
Edit Comment Settings
Subscribe to specific RSS Feeds for Admins & Editors
Your site settings dashboard covers many of the options listed above, i.e. general site settings, site header & footer options, specifying your magazine's geolocation, content settings, Sprocket settings, default text editing, date & time settings, creating redirects, choosing 3rd party integrations, embedding scripts into the site header HTML, and adding any beta features:

Admins also have direct access to Locations, Tags and Pages, without having to switch to the Editor role. Experience has taught us that these direct links are helpful for development purposes.
NOTE: If you are an Admin and would like to also have the privileges of an Editor for your daily tasks, you can assign yourself the role of BOTH Admin and Editor. The two roles combined give you the broadest privileges.
In addition to the Site Settings, an important feature for Admins is the power to create and edit the entire website structure, i.e. the Sections of your instance under the tab of that same name. This is also where Admins and Editors can create and edit layouts for the various Sections.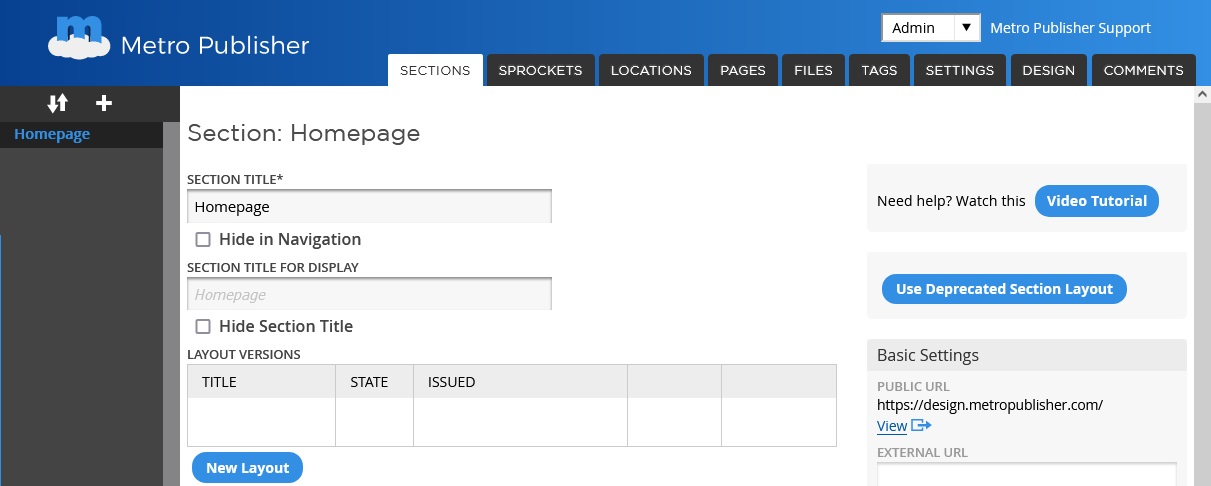 For more information on the features you have access to, please visit our respective help articles: