SEO Advantages with Metro Publisher Location Roundups
NOTE: A PDF of our Metro Publisher Advanced Training on Roundups held at our 2015 Publishing Heroes Conference in Berlin, Germany, is attached at the bottom of this document as additional support documentation of SEO with Roundups.
Our special Content type 'Location Roundups' is:
popular with readers
popular with search engines
easy to create
good for organic traffic
a doorway to sections / subsections
low maintenance
evergreen content
Metro Publisher Roundups are highly effective for search engine optimization (SEO) and we recommend using them to your advantage.
They are particularly popular with readers and this type of Content is also specifically tailored to search engines.
NOTE: Please visit our support document for information on how to build roundups and videos showing the different kinds of roundups with explanations and examples: Location Roundups. This and other articles about our various Content types are found in the support section: Editor Tasks - Content.
Location Roundups cater to what people want to know, and therefore to what they search for. People type things like 'Best Restaurants London' into search engines, or, for example:
places to go with kids San Diego
child-friendly restaurants Boston
road trip attractions USA
best pastry shop Vienna
dog-friendly bed & breakfast New England
star ratings for campsites Germany
used book shops Manhattan
bilingual kindergarten in Berlin
When searches like these lead to incoming links (and clicks) to your website, you are getting the desired "organic traffic" which then raises your page ranking with the search engines.
Roundups work so well for traffic because with Metro Publisher the strings and numbers on your location list are clearly marked for the search engines, so they don't have to read out from the content what those letters and numbers are for.
It says phone number next to the phone number and the search engine recognizes that and can crawl the content more efficiently. You get appreciation points so to speak, with this intelligent presentation of content.
Here is a Metro Publisher client example of a Location Roundup with excellent ranking on Google (and other) search engine results*:
Toronto's 25 Hottest Restaurants - NOW Magazine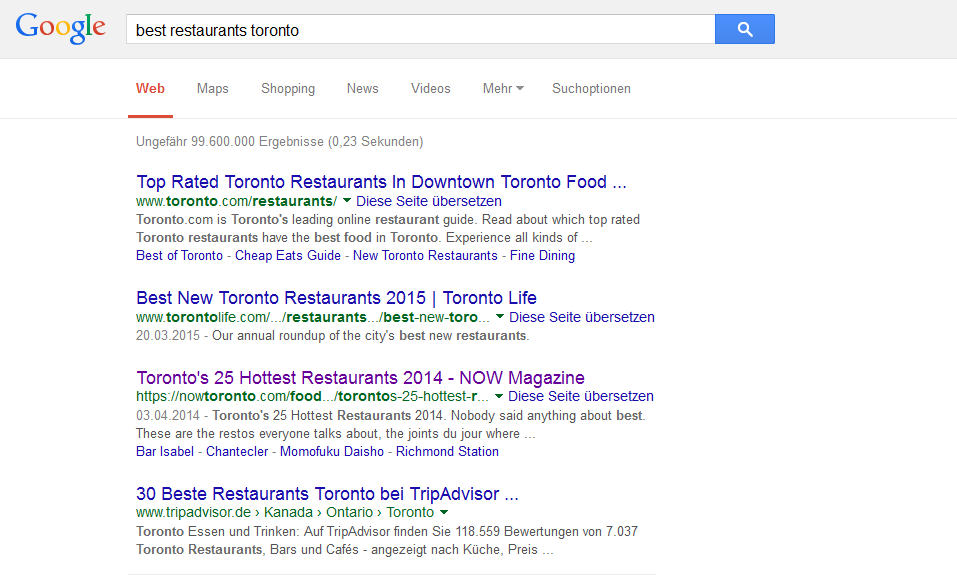 * Note that the keywords typed do not exactly match the title and that meta keywords are no longer of value for SEO (status 2015). These search results may vary based on location. In this case, we carried out the search from Berlin.
Here are some more sample Roundups you can take a look at for inspiration:
Best Coworking Spaces - Barcelona Metropolitan
Location Roundups can be created as a tour planner, but also as a non-tour presentation of Content with or without a map.
Please visit our support document for information on how to build Location Roundups and for videos showing the different kinds with explanations and examples: Location Roundups