Overview
There are two features that allow tighter integration with Facebook for your Metro Publisher website. These features allow your content to be spread via Facebook through the network's of your readers.
Facebook Like and Share buttons

Facebook Commenting on Content and Locations / Listings
---
Facebook Settings in Metro Publisher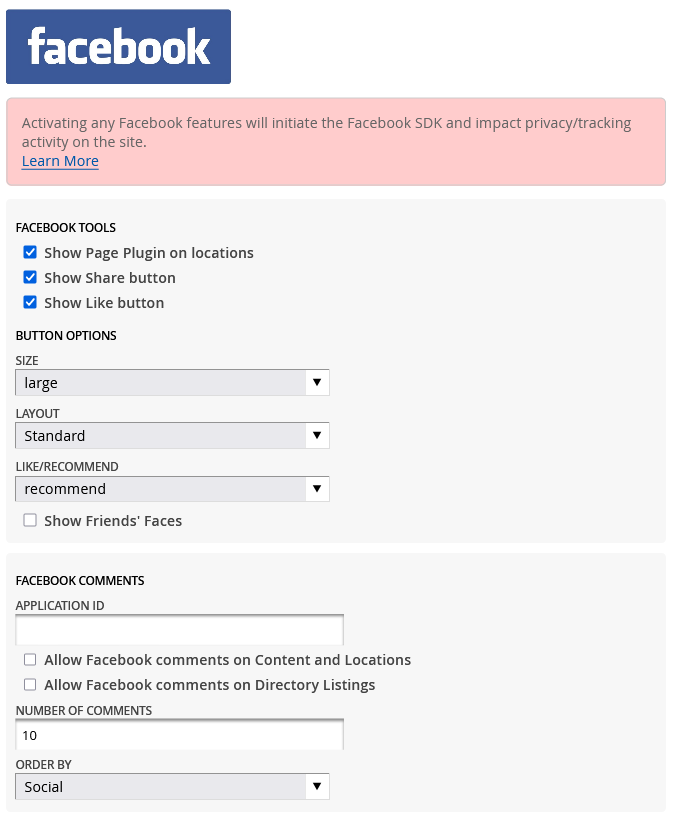 Show Page Plugin on locations – activate this checkbox to enable Facebook streams on business' location pages
Show like button on articles
Show share button on articles
Layout – Standard, Box Count, Button Count or Button
Button Size – Large or Small
Action Type – Recommended or Like
Show Friends' Faces
Application ID – In order to utilize the Facebook's commenting feature, your magazine must have a Facebook App ID. To get these, someone on your staff will have to create a Facebook App. To find out how, read this guide to registering and configuring a Facebook App.
Allow Facebook Comments on Content and Locations – This option will allow comments on locations and regular content.
Allow Facebook Comments on Directory Listings – This option will allow comments on Directory Listings in addition to regular content for clients with the Metro Publisher Directory Add-on.
Number of Comments – Input the number of comments to show when the page loads.
Order by – Select one of Facebook's predefined options for ordering comments: Social, Time, or Reverse Time
Adding a Facebook Pixel
Here are Facebook's instructions on adding a Facebook tracking pixel: Create and Install a Facebook Pixel

To apply such tracking code to your site, you would need to log in and make sure you switch to your role as an Admin. Then go to Settings > HTML Embed > Header HTML as per the instructions provided by Facebook.

Facebook has the Header listed as the location for the pixel code in their instructions. You can find that info in the "Manually add pixel code to website" dropdown under #2 of the steps:

"Paste the base code at the bottom of the header section, just above the closing head tag."

So once you have your code, you would paste it into the field titled "Header", right after/below the line of script that is currently in your header field, to comply with Facebook's instructions, making sure not to place the code between any other code in that field.
You can leave space between the existing scripts and this Facebook Pixel as a visual aid, that doesn't matter for inserting code.