Overview
It is important that Google (or any search engine) only indexes a single version of your website, which we call your 'primary domain' on our system at Metro Publisher. Please read this guide carefully.
Once you have all your content ready for the world to see, the final step is to allow your readers find your site.
---
1. Get a Custom Domain Name
Until now, your public site has been viewable at the web address we gave you when you signed up for Metro Publisher. That address looks something like this:
http://mywebsite.metropublisher.net
You may use that address for as long as you like. However, you will probably wish to create your own custom web address, one that does not include "metropublisher". This is what we call a custom domain name. This custom domain name is the web address (also called an URL) that you want your users to type into a browser in order to find your site on the web. It would look something like this:
http://mywebsite.com
If you don't already have your own domain name, you can register one now. Here are some resources to do so:
HOME | BACK TO TOP | ROAD MAP TO LAUNCH
---
2. Add Your Custom Domain Name(s)
Once you have registered your own custom domain name, you must add it to your Metro Publisher account. This is NOT done in the Metro Publisher work space where you normally work on your site. This is a top-level account setting, so you must add your custom domain(s) via the Metro Publisher Service Dashboard which is where you administer things like your payment settings for your Metro Publisher account. This requires the person who originally set up the account to log in here:
Once logged in, go to Site Settings: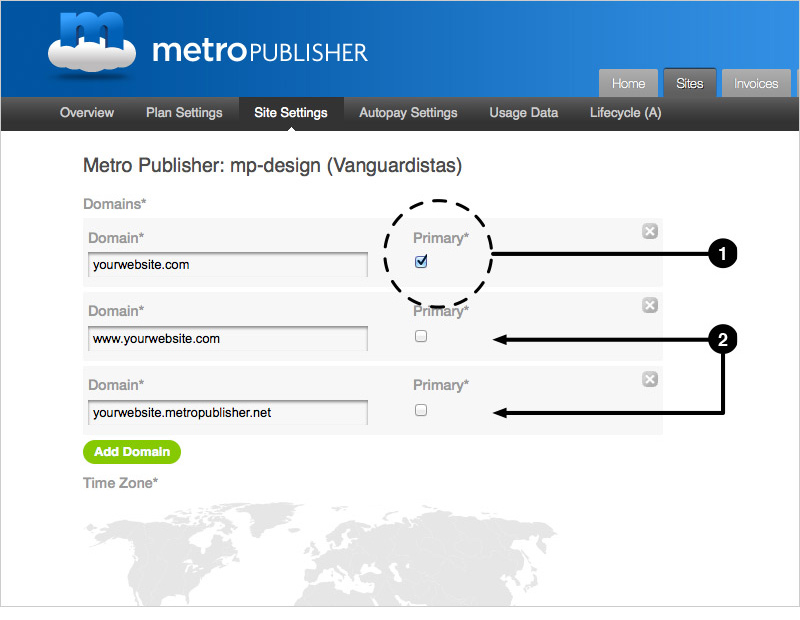 This image shows that the primary domain has been changed as well as several secondary domains added.
When you are ready to launch, add your custom domain as your Primary Domain.
Also, add any number of additional domains you own and would like to have pointing to your new Metro Publisher web site.

NOTE: This includes variations to your domains, such as the domain name with and without the www. So, for example, if your domain is yourwebsite.com, you MUST add yourwebsite.com AND www.yourwebsite.com. Then select ONE of these to be your primary domain.

The Primary Domain is the primary web address that your users see and that comes up in search results. If you are going to use a custom domain, then you will select that domain as the primary one.
HOME | BACK TO TOP | ROAD MAP TO LAUNCH
---
3. Modify the A Record on Your Custom Domain
This is the final step in the process of launching your site. On the day that you want your site to be live, you will need to change the www A record (name) for your custom domain(s) with your Domain Registrar to point to our IP Address: 75.101.132.169.

WARNING:Only change your www A record. DO NOT change your MX record or Domain Name Servers.
Until these changes to your www A record propagate worldwide you will be unable to access the public pages of your Metro Publisher site:
http://mywebsite.metropublisher.net
Everyone's situation is slightly different in this regard, so it is advisable to contact your Domain Registrar for clarification on how to do this.
HOME | BACK TO TOP | ROAD MAP TO LAUNCH
Trouble Shooting
If you are experiencing problems with your domain, please review the steps above to make sure that you followed the instructions exactly. If your problems persist and you are sure that you did everything correctly it may be an issue with your domain. To investigate, use this free third party DNS analysis tool below. This will help you find out what is going on.
NOTE: Metro Publisher DOES NOT have access to your domain nor do we provide domain services.
Go to this web address: http://www.intodns.com
Type in the domain name of your site. For example: samplewebsite.com

Near the bottom of the page, look for the row that contains your "WWW A record."


If the WWW A Record SAYS [75.101.132.169] –
Then you can be certain that you correctly input our servers for your domain's A record. However, if you unable to see your new Metro Publisher website, either:

Option 01: Your changes have not yet propagated the web. It can take up to 24-48 hours for your domain changes to propagate worldwide. All you can do in this case is sit tight and wait until your domain changes spread worldwide.

Option 02: There is something wrong with your domain. There are a variety of reasons you may have a problem that have nothing to do with your Metro Publisher service. To find the resolution for this, you MUST contact your domain registrar.
If the WWW A Record DOES NOT SAY [75.101.132.169] –
Then you have not input the proper IP address for our servers. The solution to this issue is to go to your domain registrar and change the WWW A Record now.




NOTE: Metro Publisher DOES NOT have access to your domain nor do we provide domain services or support for your domain. Contact your registrar with any issues.
HOME | BACK TO TOP | ROAD MAP TO LAUNCH