Getting Found by Google
After your site goes live, you do not need to register your sitemap with Google to initiate the process of indexing your new site. Google will detect your Metro Publisher sitemap, which is created automatically.
Google provides an overview of the search engine indexing process here: Get Your Site on Google.
If you have recently created new landing pages (sections) or made changes to existing ones, you can ask Google to crawl those pages by following their guide here: Ask Google to re-crawl your URLs. The sitemap is automatically updated with pages you add, however, so those pages will be crawled sooner or later.
Your Sitemap
All Metro Publisher websites have an automatically generated XML sitemap. It is not intended for humans, but is very important for the various search engines to index the structure of your website.
To locate your sitemap you simply have to add "sitemap.xml" after your domain name. For example:
http://mywebsite.com/sitemap.xml
If you have done this properly, you should see a page that looks something like this:
This example is from our Metro Publisher demo site: http://demo.metropublisher.com/sitemap.xml
NOTE: If your site is not yet live, you can locate the sitemap by using the temporary web addressed assigned to you when you set up your Metro Publisher account. It should look something like this: http://mywebsite.metropublisher.net/sitmap.xml. However, you must use your real domain name after the launch of your site for Google to index your live site.
Google Search Console

In order to request a re-crawl of pages and to see how your website appears in Google searches, whether it is mobile-friendly, etc., you will need to verify ownership of your website by registering it as a so-called "property" with Google here: Google Search Console.
Please refer to our support article for help with Setting Up Google Search Console for Your Metro Publisher Website.
Verifying your website there will also allow you to:
Make sure Google can access your pages
Tell Google which pages to crawl
Tell Google which pages not to crawl
Confirm that the number of indexed pages in your site is climbing when you add content
Get Google reports on any errors for your site
Check the status of your click counts
A quick introduction to Google Search Console can be found in Google's help documentation here: Basic Search Console Usage for Website Owners.
Getting Found by Bing
Microsoft's search engine Bing conveniently allows you to import a website from Google Search Console, but you can also add your URL manually.
Bing Webmaster Tools also offers dashboard access to the same kinds of features as Google:
SEO Tools
Diagnostics Reports
Mobile-Friendly Check
Etc.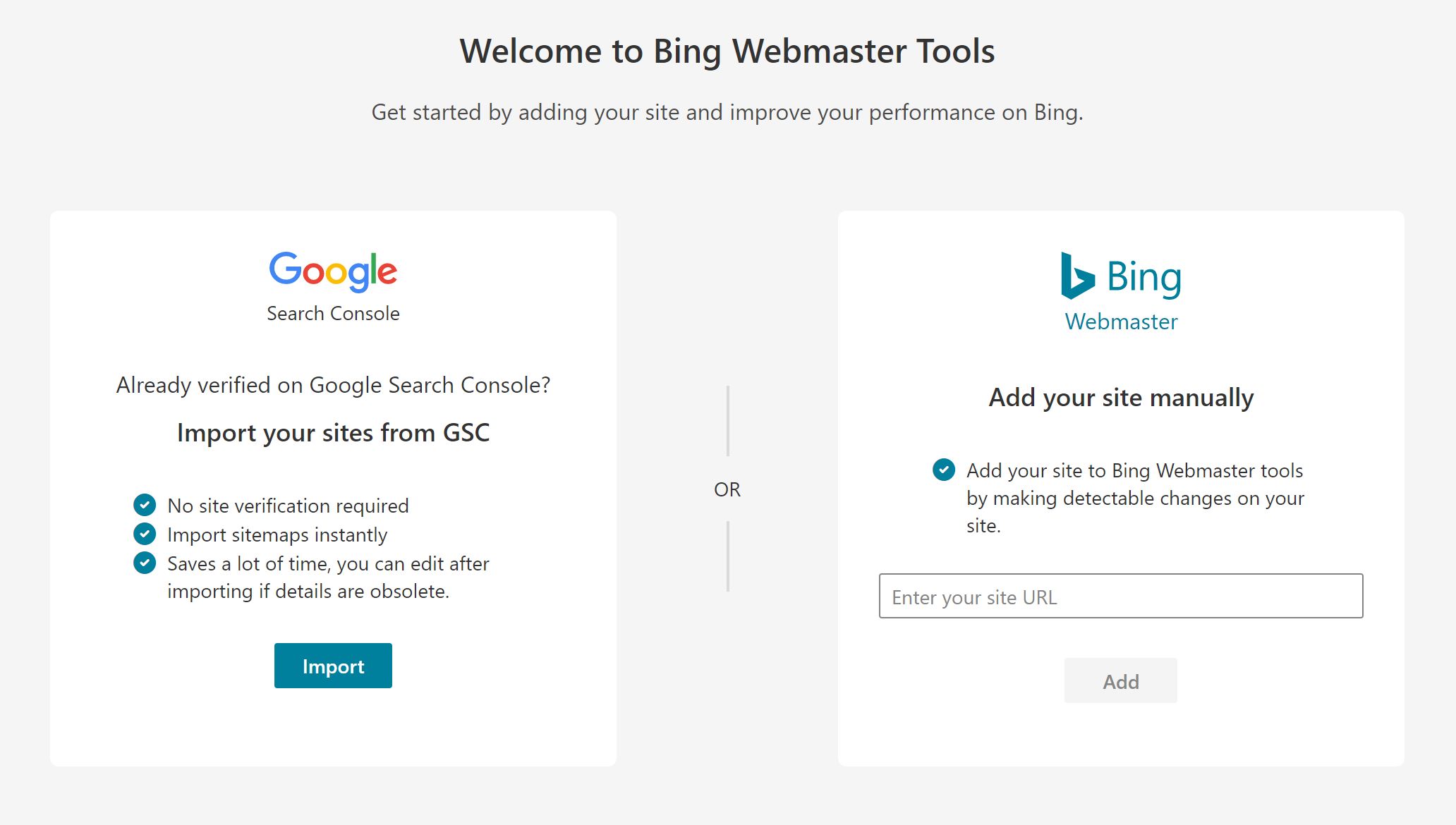 To register your website with Bing you will need a (free) Bing Webmaster Tools account. All the steps from creating an account to verifying your domain with Bing are outlined in their help document here: Bing Webmaster Tools: Getting Started Checklist.