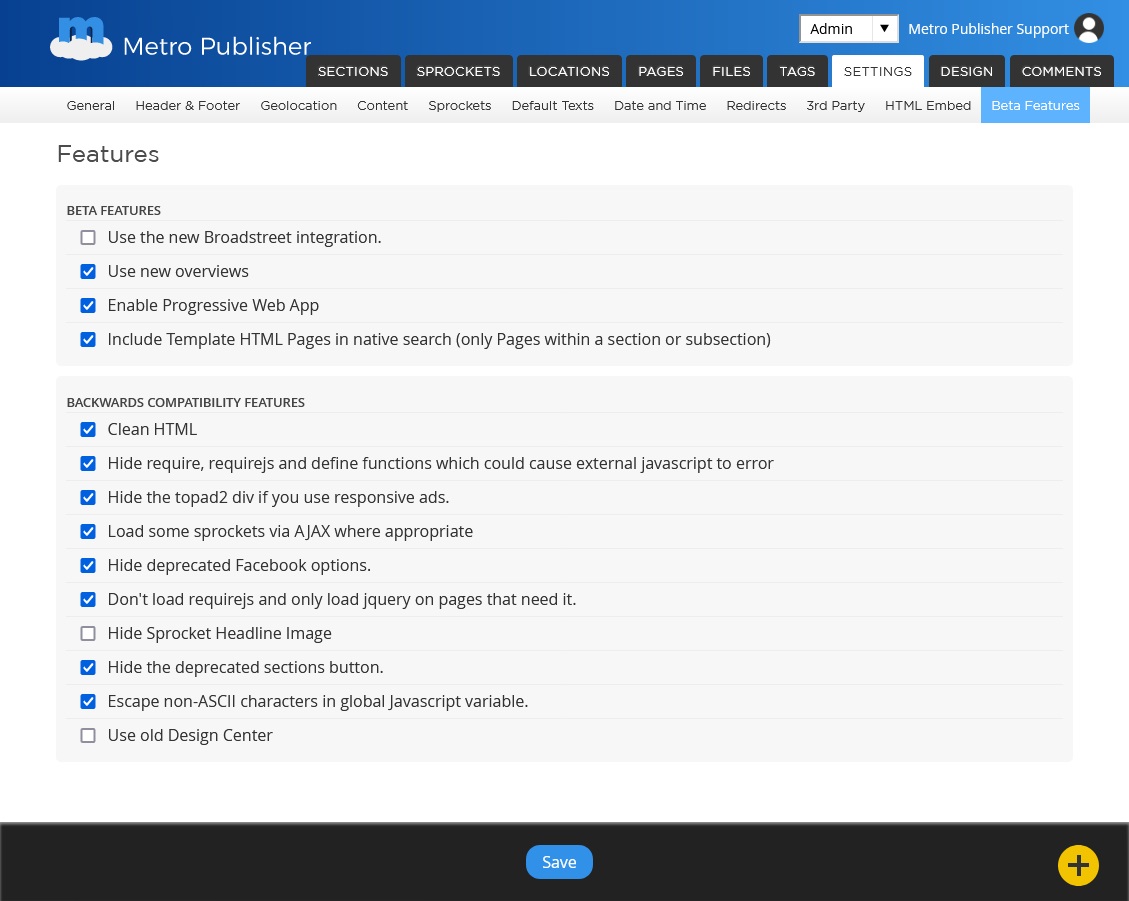 With each new release of Metro Publisher, our development team introduces new features and adjustments to code. In some cases we allow users to opt-in to the new features. In other cases, changes in code may cause conflicts with some older clients who may be using certain features that are being phased out. We add those as Beta Features in order to avoid compatibility issues with older features.
To get to the Beta Features tab for your website:
Log in as an Admin
Go to Settings > Beta Features
Below is a list of the current Beta Features.
New Features
These offer improvements to current features, but clients may want to update these at a time that is convenient for them.
Use new overviews (refers to newer version of content / location / event overview tables)

Enable Progressive Web App (requires additional settings as outlined here: PWA)

Use the new Broadstreet integration (refers to our Broadstreet Responsive Ads)
Include Template HTML Pages in native search (refers to our Native Sitewide Search built as an alternative to Google PSE; pertains only to Template HTML Pages within a section or subsection)
Compatibility Features
For most clients, these features should be ON, with the exception of the old design center option and hiding Sprocket headline images. Both these options are personal choices and will not influence code performance.
Clean HTML
Hide require, requirejs and define functions which could cause external JavaScript to error
Hide the topad2 div if you use responsive ads
Load some Sprockets via AJAX where appropriate
Hide deprecated Facebook options
Don't load requirejs and only load jquery on pages that need it

Hide Sprocket Headline Image
Hide the deprecated sections button (refers to our newest Layout Section Editor)

Escape non-ASCII characters in global JavaScript variable
Use old design center (refers to our recent, new Design Builder release)